Spain Through Its Wineries
The Leading Brands of Spain Forum and the World Tourism Organization (UNWTO) agreed to the development of a Prototype aiming to create a tourism model positioning Spain as an international benchmark in wine tourism.
Members
Five of the leading Spanish wineries, members of the Forum, are participating in this project: Barbadillo, González-Byass, Grupo Freixenet, Osborne and Pagos del Rey (Grupo Félix Solís), joined by other members of the Leading Brands of Spain Forum, such as the Matarromera family of wineries, Ramón Bilbao (Grupo Diego Zamora), Terras Gauda and Vivanco.
Spain: 6th most popular wine tourism destination
Every year, Spain welcomes 16.4 million tourists that are regular wine drinkers, from Germany, the United Kingdom, Switzerland, the United States, the Netherlands and Belgium. 21% of these, buy or consume wine.
Potential
The potential market for tourists who may have an interest in visiting wineries is around 40% of all tourists. The positive perception of Spanish wines held by tourists increases by 18% during their visit. By the time these tourists return to their home countries, their intention to consume Spanish wines has increased by 24%.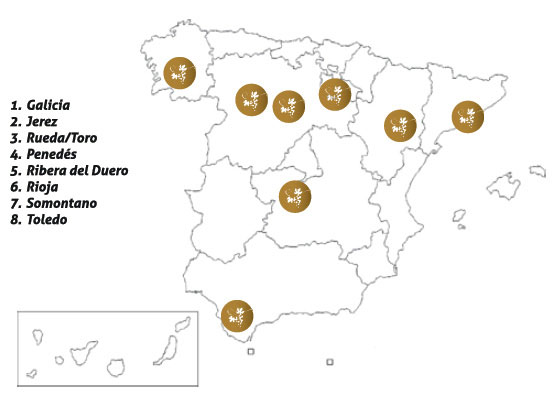 Mission
To provide unique tourist experiences related to wineries and their brands, which in turn generate customer loyalty, ensuring they return to Spain to continue their journey of discovering the country through its wineries.
Vision
To serve as a model global reference for wine tourism management, bringing together the know-how conferred from being one of the largest wine-producing countries in the world and the value derived befalling from being second most visited tourism destination world-wide.
Designed by the World Tourism Organization (UNWTO), a United Nations agency whose headquarters are located in Spain, this model is based on its prototype methodology – a tool for innovation in tourism products. Spain Through its Wineries, a pioneer in this field, counts on the support of UNWTO and is part of the International Tourism Oenological Network of UNWTO: The Joyful Journey.
Values
Sustainability in all of its forms, (including but not limited to environmental and socio-economic factors), as well as the premises defended by the United Nations through the World Tourism Organization: the enhancement of sustainable, responsible and accessible tourism as a tool for development, competitiveness and positive impact throughout the value chain.
Another central goal of this ground-breaking project is to address the issue of seasonality in tourism by offering a high yielding added-value proposition that is both authentic and differentiated, which would effectively enhance the territory and foster rural economic development.